Johnna Merculief

REALTOR

in Fairbanks, AK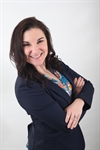 Professional Designations
MRP, PSA, REALTOR, RENE, SRS
Expertise Types
New Homes, Residential, Residential Investment, Single Family Homes
Johnna joined NextHome Arctic Sun in January 2019. She became a licensed Realtor in February 2019. Since she has become a Realtor, Johnna has obtained Military Relocation Professional, Seller Representative Specialist, Real Estate Negotiation Expert and Pricing Strategy Advisor certifications. She is also apart of the following affiliations: Real Estate Business Institute, Residential Real Estate Council, Greater Fairbanks Board of Realtors, National Association of Realtors, Outreach Committee for the Greater Fairbanks Board of Realtors and a designee for Certified Residential Specialist.
During Johnna's professional career prior to real estate, Johnna has held the following positions: Apparel Manager(Kmart, 1997 – 1999), Apparel Assistant Manager(Fred Meyers, 1999 – 2003), Fred Meyers Jewelry Assistant Manager(Fred Meyers Jewelers 2003 – 2004), Fred Meyers Fred Bear mascot and Home apartment associate(Fred Meyers, 2004 – 2006), Department of Motor Vehicle Customer Service Representative II(Road examiner for commercial, drivers license and motorcycle licenses)(State of Alaska, 2005 – 2007), Department of Health and Social Services Eligibility Office Manager(State of Alaska, 2007 – 2019). Johnna is currently employed with the State of Alaska as an Airport Leasing Specialist, specializing in rural airport properties.
Johnna is a trained dancer and choreographer with over 30 years in the Fairbanks and North Pole communities. Johnna is trained in jazz, tap, hula, Tahitian, Samoan, hip hop and cheer style dancing. She has danced for the Quota International of Fairbanks, Breast Cancer Detection Center, American Tire and Auto, Fairbanks Rollergirls, Dance Theater Fairbanks, Fairbanks Girl Scouts, West Valley High School, Lathrop High School, North Pole High School, Pioneer Home, Denali Center, Fairbanks Resource Agency, different military functions and many other organizations and companies in the Fairbanks North Star Borough. Johnna also had her own business teaching dance to people of all ages, backgrounds and from high level of experience to no experience at all. Johnna has the experience and background in being connected to the community and the people who live in it.
Johnna has a passion for real estate and working with people to find a place they can call home in our Golden Heart City of Fairbanks and North Pole, Alaska. Johnna was born and raised in Fairbanks, Alaska. Johnna has lived in Alaska her entire life. Johnna was raised by her dad, who is a Marine, and her awesome mother. Johnna's parents raised her to have a high level of work ethic in any job that she has obtained and to rise to the top of any situation. Her motto's are to "get it done right the first time" and "whatever it takes" to get the job done.
With Johnna's 22 years of customer service experience, she has the skills and abilities to get you through the real estate process with tact, poise and professionalism. She also believes in having a high level of communication and transparency to internal and external customers in the process.

With Johnna's 14 years in state government work, she has experience and skills working under pressure while achieving the goals and meeting deadlines. She also has experience dealing with difficult situations while maintaining the "glass is half-full" approach to get to the end result. She also has the ability and experience to interpret policies, legal documents and state statutes to clients in a given situation to the parties involved.